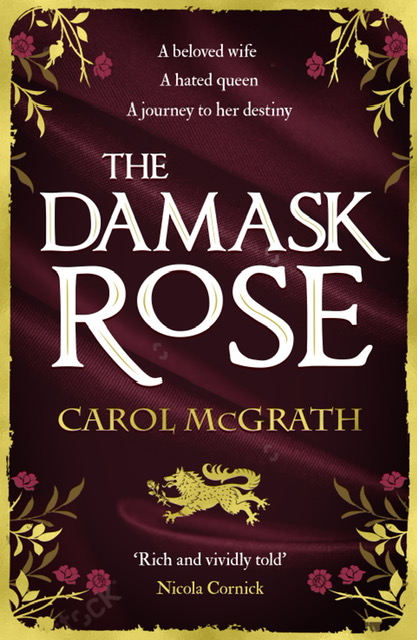 The Damask Rose
1266. Eleanor of Castile, adored wife of the Crown Prince of England, is still only a princess when she is held hostage in the brutal Baron's Rebellion, and her baby daughter dies. Scarred by privation, a bitter Eleanor swears revenge on those who would harm her family - and vows never to let herself be vulnerable again.
As she rises to become Queen, Eleanor keeps Olwen - a trusted herbalist, who tried to save her daughter - by her side. But it is dangerous to be friendless in a royal household, and as the court sets out on crusade, Olwen and Eleanor discover that the true battle for Europe may not be a matter of swords and lances, but one fanned by whispers and spies . . .
---
Purchase on Amazon
---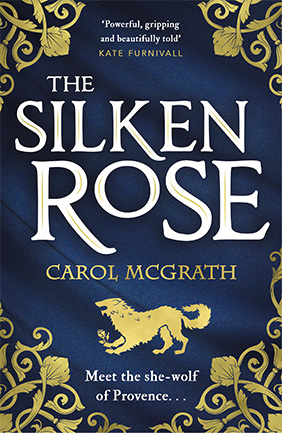 The Silken Rose

1236. Ailenor of Provence, cultured and intelligent, is only thirteen when she meets her new husband, Henry III of England. A foreign and friendless princess in a strange land she is determined to please him. And she knows that when the times comes she must provide an heir, to secure the throne against those who would snatch it away.

Rosalind, a commoner skilled in the arts of needlework and embroidery, catches the young queen's attention and a friendship blossoms. But she is unprepared for the dangerous ramifications of winning the queen's favour ...

As closeness, and soon love, develops between Ailenor and Henry, so too does her influence on her husband and her power at court. As France and Wales provide constant threat, and England's barons increasingly resent her influence, Ailenor must learn to be ruthless. Who should she encourage her husband to favour? Who can she trust?

Caught in a web of treachery and deceit, her choices will define the fate of England. To protect her close friends, and her beloved children, Ailenor, the She-Wolf from Provence, would do, and endure, anything
READERS LOVE THE NOVELS OF CAROL McGRATH!

'The quality and detail of research stands out'
'A triumph of a novel!'
'Expertly written'
'A cracking tale'
'Laced with subtle tension'
'Fascinating and vivid'
If you love THE SILKEN ROSE check out the highly acclaimed MISTRESS CROMWELL, also by Carol McGrath and available now ...
---
Look Inside
---
Purchase on Amazon
Mistress Cromwell

MISTRESS CROMWELL presents the rise of Tudor England's most powerful courtier, Thomas Cromwell, through the eyes of the most important - and little known - woman in his life . . .

When beautiful cloth merchant's daughter Elizabeth Williams is widowed at the age of twenty-two, she is determined to make a success of the business she inherited from her father. But there are those who oppose a woman making her own way in the world, and soon Elizabeth realises she may have some powerful enemies - enemies who know the dark truth about her dead husband.

Happiness arrives when Elizabeth meets ambitious young lawyer, Thomas Cromwell. Their marriage begins in mutual love and respect - but it isn't always easy being the wife of an independent, headstrong man in Henry VIII's London. The city is both merciless and filled with temptation, and Elizabeth soon realises she must take care in the life she has chosen . . . or risk losing everything.

MISTRESS CROMWELL was previously published as THE WOMAN IN THE SHADOWS.
---
Purchase on Waterstones
---
Purchase on Amazon
---
Visit Author Page
---
---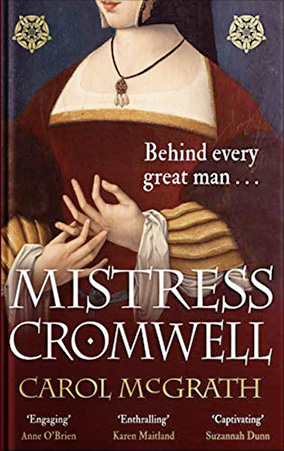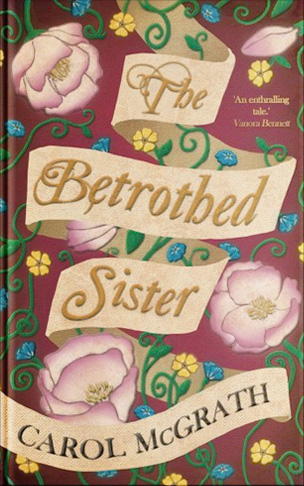 ---
The Betrothed Sister
(Book three in The Daughters of Hastings Trilogy)

It is September 1068. Thea, also known as Gytha, the elder daughter of King Harold II, travels with her brothers and grandmother into exile carrying revenge in her heart. She is soon betrothed to a prince of Kiev. Will her betrothal and marriage bring her happiness, as she confronts enemies from inside and outside Russian territories? Will she prove herself the courageous princess she surely is, win her princely husband's respect and establish her independence in a society protective towards its women?
Reviews for The Betrothed Sister:

'The Betrothed Sister is like one of its own rich embroideries, cut from the cloth of history and stitched with strange and passionate lives.' Emma Darwin

'A beautifully woven tale of an exiled princess's quest for happiness. Compelling and convincing, the medieval world is brought vividly to life.' Charlotte Betts

'What happened to the family of King Harold after William the Conqueror won the Battle of Hastings? Carol McGrath has delved into one of history's forgotten footnotes and come up with the astonishing story of Thea, the exiled English princess destined for Russian royalty. An enthralling tale, told with elegance and sympathy.' Vanora Bennett
Purchase a Copy
---
Visit Author Page
---
The Swan Daughter
(Book two in The Daughters of Hastings Trilogy)
A marriage made in Heaven or Hell. 1075 and Dowager Queen Edith has died. Gunnhild longs to leave Wilton Abbey but is her suitor Breton knight Count Alain of Richmond interested in her inheritance as the daughter of King Harold and Edith Swan-Neck or does he love her for herself? And is her own love for Count Alain an enduring love or has she made a mistake? The Swan Daughter is a true 11th C tale of elopement and a love triangle by best-selling author of The Handfasted Wife, Carol McGrath.
Reviews for The Swan Daughter:

'A wise and lyrical evocation of the lives of women in the aftermath of the Norman Conquest, and high romance in the true sense of the word. A captivating read.' — Sarah Bower, author of The Needle in the Blood and The Book of Love

'Brings the 11th century alive… a wealth of well-researched detail.' — Historical Novel Society

'As delicately crafted as the stiches of the Bayeux Tapestry, 'The Swan-Daughter' establishes Carol McGrath's exceptional skill as a novelist of the Medieval era.' … Jenny Barden
Purchase a Copy
---
Visit Author Page
---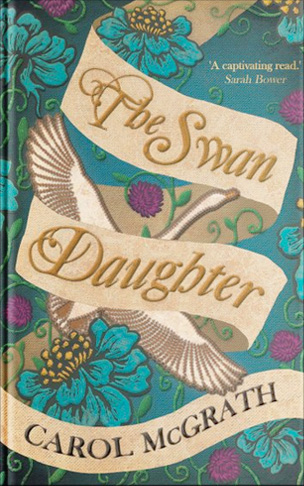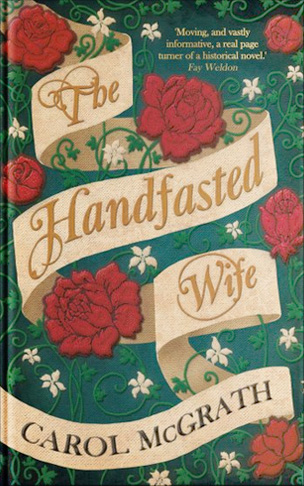 ---
---
The Handfasted Wife
(Book one in The Daughters of Hastings Trilogy) The year is 1066 and England faces a time of great uncertainty. Beautiful, beloved Elditha, handfasted wife of King Harold, the father of her children, is cast aside for a political marriage. Yet, their love perseveres. Witnessing Harold's defeat at Hastings, she flees from the Norman invasion. Can she preserve her broken love and protect her family?

Reviews for The Handfasted Wife
"Love, loss and longing being much the same now as in the 11th century, Carol McGrath's Handfasted Wife has the same compelling hold on the reader as any contemporary novel, while remaining faithful to the mores of the time. What times they were, and what an achievement this book is!" Fay Weldon

This is an era and a family that I can't get enough of reading and the author surely did them justice… Carol McGrath has done impeccable research and is so very knowledgeable on these troubled times. —- Kathleen Ingram, Reading the Ages

McGrath's research into the medieval quotidian is superb, and beautifully translated into a pastoral fiction in the tradition of Hardy. —- Historical Novel Society

Moving, and vastly informative, a real page turner of a historical novel. —- Fay Weldon
Purchase a Copy
---
Visit Author Page