Today I welcome Charlotte Betts to The Writers' Hub. Her new book The Fading of the Light was published on Friday. It is the second in a Trilogy set in Edwardian Port Isaac and a few other locations. The Artists' Community are trying to be self-sufficient and several characters amidst family and friendship dramas create a fascinating garden. Clearly Charlotte meticulously researched gardens and has written a superb piece about Arts and Crafts gardens. It is a love I share and if you like her stunning photographs and writing take a look at the other posts on her blog tour. The link is at the end.
In the early 1900s, a softer form of garden landscapes emerged as a reaction to the formal bedding previously favoured in Victorian gardens. This design direction was led by the Arts and Crafts movement, which promoted traditional craftsmanship for hard landscaping to display the new, relaxed planting plans to greater effect.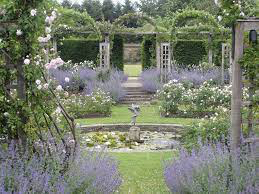 Pool and Fountain
A good working relationship between the architect and the gardener was important to achieve a harmonious result. Garden features became highly desirable and often included ponds with fountains, gazebos and summerhouses. Natural, preferably local materials were used for terraces, walls, paths and sunken gardens.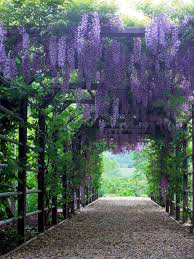 Pergola Wisteria
Pergolas were fashionable, either made from rustic timber or stone pillars topped with oak beams, and always tall enough to drape with perfumed roses, clematis, wisteria or laburnum.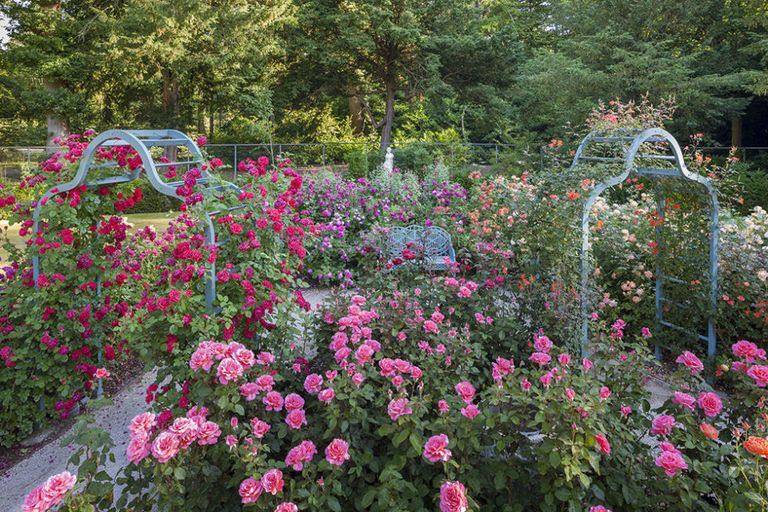 Rose gardens, often contained within walls or hedges, provided a serene and gloriously scented place to while away an hour or two on a Lutyens bench on a June afternoon. Yew hedges were clipped into walls with buttresses and archways or topped with topiary animals or birds.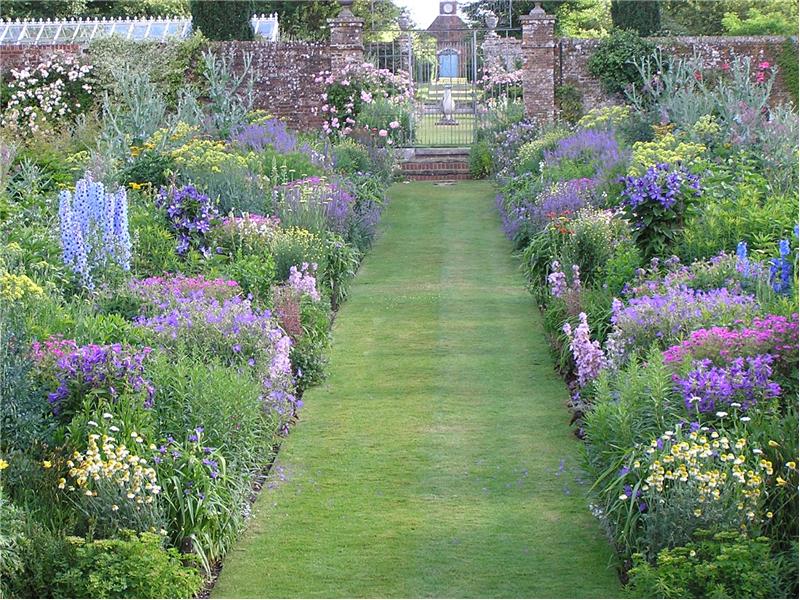 Bramdean-   Hampshire
In other areas of the garden were wide herbaceous borders, fragrant with peonies, delphiniums, irises, foxgloves, hollyhocks, catmint, lavender and billowing froths of alchemilla mollis. Colour schemes were often muted; mauves, pinks and blues were considered romantic and the generous waves of planting softened the edges of verdant lawns.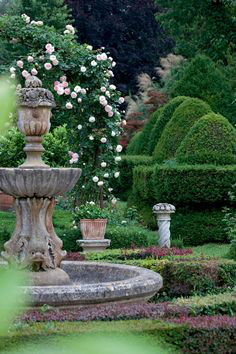 Topiary and Pool
Exterior 'rooms' were carefully laid out to be viewed from the house with vistas, sometimes through a pergola, drawing the gaze to a feature; a statue, pool or summerhouse. In larger grounds, the garden gave way to a more natural landscape with rock or water gardens, wild areas or woodland glades threaded with rustic paths.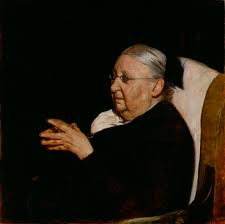 Gertrude Jekyll
Formidable lady gardener Gertrude Jekyll famously collaborated with the architect Edwin Lutyens to produce Arts and Crafts gardens as seen at Hestercombe Gardens near Taunton, completed in 1900 for the Portman family. https://www.hestercombe.com/history/gardens
Lawrence Johnston's inspiring and influential Arts and Crafts garden of rooms at Hidcote is also well worth a visit.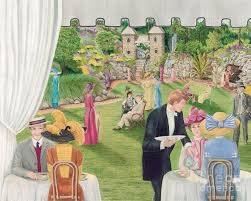 The Garden Party
The vision of the long summer afternoon of the Edwardian era is perfectly manifested in the romantic gardens of that time – a perfect backdrop for tea on the terrace, a secret assignation between lovers or a game of tennis.
Thank you, Carol for inviting me to be a guest author on your website!
Thank you for a fabulous post, Charlotte. Very good luck with The Fading of the Light. I loved it.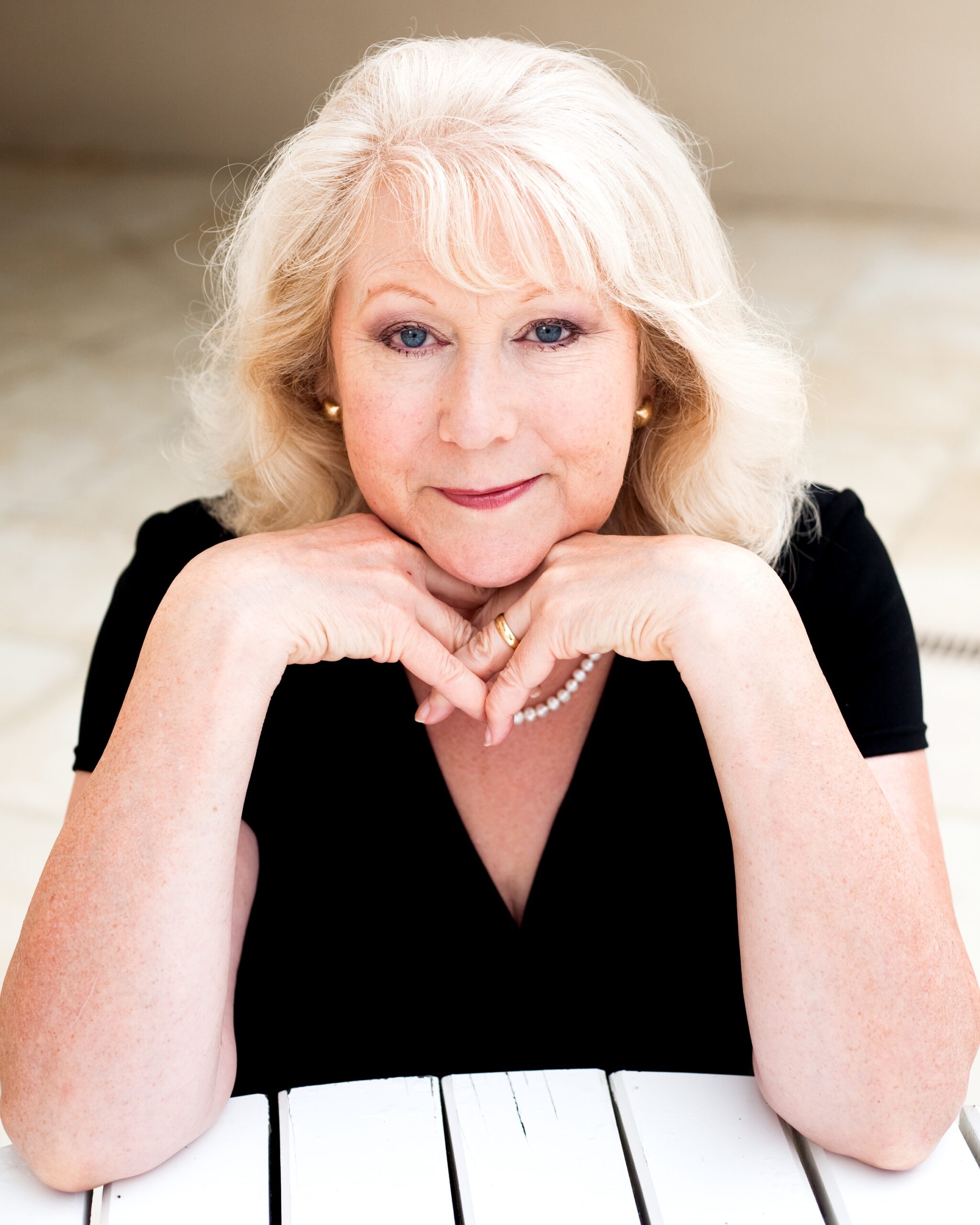 An award-winning author, Charlotte's latest release, The Fading of the Light, is now published in paperback.
'A beautifully evocative family drama, The Fading of the Light is a standalone story and #2 in the Spindrift trilogy. The story is set in an Edwardian artists' community in Cornwall. Perfect for fans of Santa Montefiore, Harriet Evans, Judith Lennox and Elizabeth Jane Howard's Cazalet Chronicles.'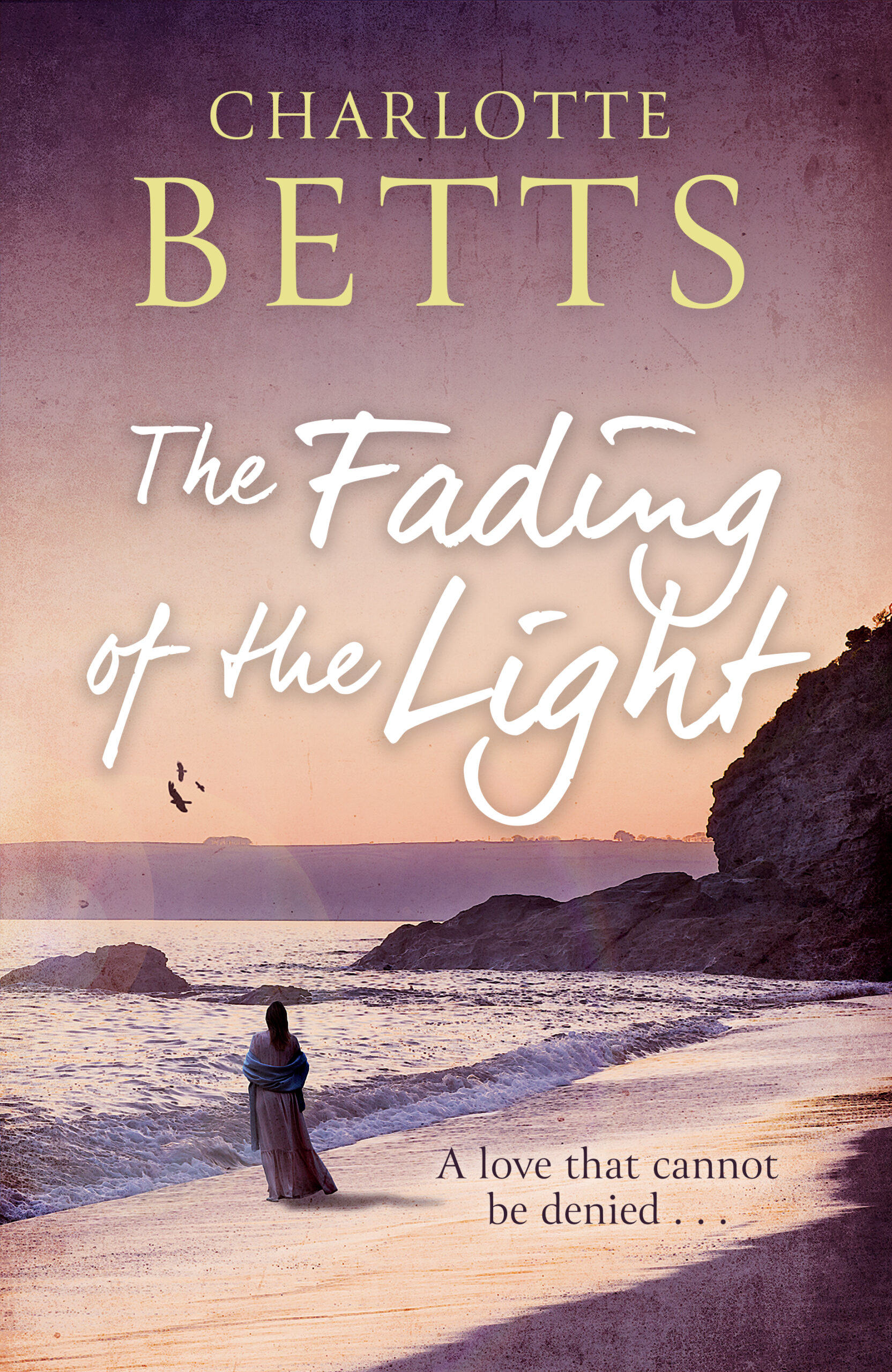 Buy the book at: https://www.yourswithlove.co.uk/titles/charlotte-betts/the-fading-of-the-light/9780349423012/
Charlotte lives on the Hampshire/Berkshire borders in a C17th cottage in the woods. A daydreamer and a bookworm, she enjoyed careers in fashion, interior design and property before discovering her passion for writing historical novels.
To be the first to hear about charlotte's new releases and hear about her writing life, please visit www.charlottebetts.co.uk.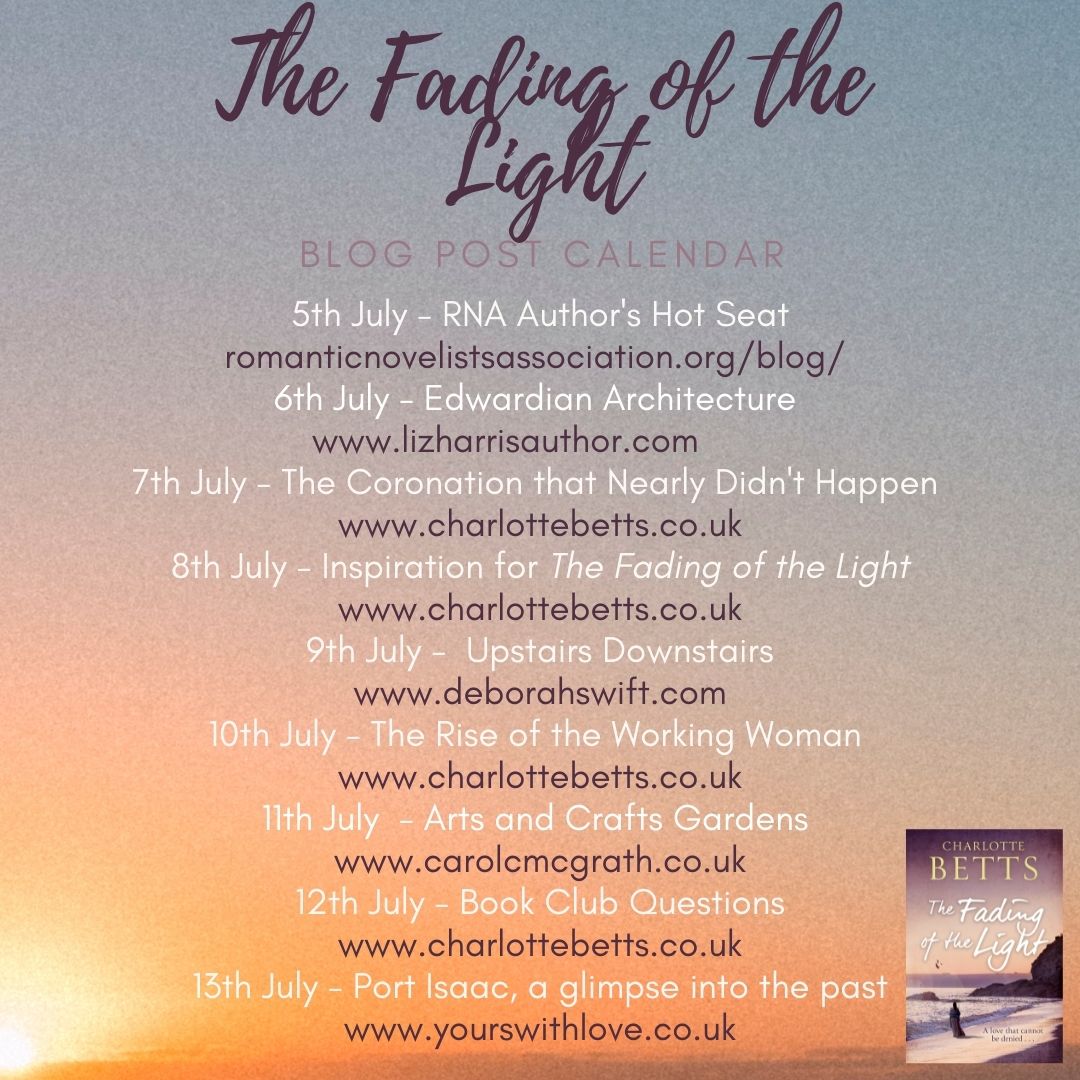 Thank you for a fabulous post, Charlotte. Very good luck with The Fading of the Light. I loved it.
I think readers and lovers of gardens will find it fascinating.