The Handfasted Wife is Edith Swan-Neck, the common-law wife of Harold II who was defeated by William of Normandy at the Battle of Hastings. Handfasting was a traditional marriage ceremony that was frequently favoured in early medieval England. The marriage ceremony usually took place in a hall or manor house. Before the marriage ceremony could occur contracts were exchanged between the two families involved. During the wedding ribbons were used to tie the bride and groom's hands together to represent their union. The pair may also have exchanged rings. The bride and groom traditionally made their promises by the whetstone at the entrance into the Meade-Hall. If the couple were lucky it might be a love match but more likely it was an arrangement between families. When Harold married Edith he was a second son and she was an heiress.
Edith Swan-Neck held land in Norfolk, Cambridgeshire, Suffolk and Kent. One of the sources for this story is The Domesday Book. My references include the primary sources The Waltham Chronicle, The Carmen de Hastingae Proelio, The History of William the Conqueror by William of Poitiers and many other primary and secondary sources. Most interesting though were general research topics such as Handfasting, Clothing, Food, Buildings, Medicine, Religion, will making, women and property and generally, women's day to day life in 11th century.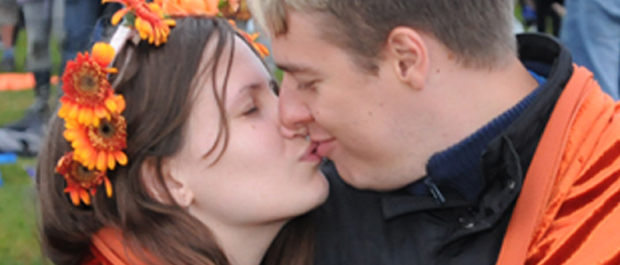 Although a priest might be present at a handfasted wedding this was not a union sanctified or blessed by the Church. Handfasting was a traditional eleventh century Danish marriage form. For a king, it allowed a 'get out' later! This happened in the real historical account of the marriage between Harold II and Edith Swan-neck. She was set aside after Harold was elected king so that he could make a political alliance that would unite north and south and therefore help him to protect England from invasion.
Edith Swan-neck first interested me years ago when I was viewing The Bayeux Tapestry in Normandy. The video accompanying The Tapestry, which can be viewed in Bayeux, Normandy, suggests that Edith Swan-neck identified King Harold's body parts on the battlefield at Senlac Hill after the English defeat. The image of an eleventh century woman searching for her husband's ruined body on a battlefield haunted me.
After the Battle of Hastings, Edith recognised Harold's broken body. According to The Waltham Chronicle, this was by marks only known to her. So what were these marks? My curiosity was aroused. As soon as I returned from Bayeux I visited Oxford's Bodleian library to research further Edith Swan-Neck, her Northern rival Aldgyth, the Godwin family, Edward the Confessor, his wife Edith who was also Harold's sister and Harold's mother Gytha. I then read extensively about daily life in the eleventh century- particularly women's lives. Embroidery during this period is fascinating and very skilled, and so I have incorporated tapestry and embroidery into the fabric of the novel. I was also curious as to why this Norfolk heiress was called Edith Swan-Neck. It is evidently because of her long neck and white skin which was fashionable and a sign of beauty in the 11th century.
Then, I wrote The Handfasted Wife, published by Accent Press for all major e readers on 29th April 2013 and as a paperback on 9th May 2013.
The Handfasted Wife tells Edith Swan-Neck's story. In the novel I dramatize how Edith was set aside when Harold was crowned king and how she survived this. Harold needed to unite North and South against the threat of invasion and the handfasted marriage, not recognised by the reforming 11thC church, allowed a way out of the contract with Edith. Edith moved to a hunting estate near to the south coast. In September 1066 many properties on the south coast were destroyed when William landed at Pevensey. The picture of the burning house on The Bayeux Tapestry with a woman and child fleeing may have been, historians, for example, Andrew Bridgeford, suggest, Edith Swanneck and Ulf, her youngest child. This novel follows Edith's story after she recognised Harold's body on the battlefield of Hastings, as her youngest son, Ulf, is taken as hostage by the enemy, possible remarriage, escape and pursuit through the war-torn south and over the sea to Dublinia where her older sons had been sent before The Battle of Hastings. Finally, she learns that her eldest daughter is in danger in Exeter and returns. When the royal women become trapped in the Siege of Exeter of 1068 the question will be: can not only they survive but how?
If you read The Handfasted Wife, I hope you enjoy it! Feel free ask me questions here and I shall do my best to answer them.
http://www.amazon.co.uk/The-Handfasted-Wife-ebook/dp/B00CL7QBVM/ref=tmm_kin_title_0?ie=UTF8&qid=1368520317&sr=1-1