The Sexy Weasel in Renaissance Art
Symbolism abounded in sixteenth-century paintings. One amusing and fascinating symbolic feature was that of the weasel. Weasels covered the whole of the mustelid family. They included ermine, sables, martens, ferrets and mink. Of interest specifically to Renaissance art, a widely-held belief was that weasels conceived though their ears and gave birth through their mouths. This gave rise to a language of hidden sexual symbolism in art with weasels symbolising everything from fertility talismans to phallic symbols. A sixteenth-century portrait by Leonardo da Vinci, The Lady and the Ermine, shows a young bride holding an ermine, which was thought to bring good luck and help her get pregnant.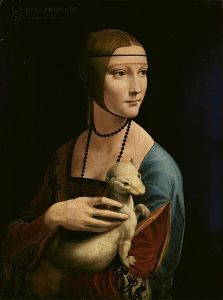 In the painting the bride's hand rests over her lower abdomen and she holds the white ermine close to her womb. White weasels were symbols of sexual purity. The story goes that the ermine would rather give themselves up to a hunter than risk soiling their pristine fur in the chase. Da Vinci's white ermine attests to the purity of his subject, the pregnant sixteen-year-old mistress of the Duke of Milan. The duke belonged to a knighthood called the Order of the Ermine and a muscular weasel would indicate his virility. Since weasels suggested fertility, weasel paintings became an ideal wedding gift. In a marriage painting by Lavinia Fortana, a young Bolognese noble woman wears a red wedding gown. She pats a little dog which is white, the symbol of marital fidelity. Over her right arm she holds a weasel pelt with a jewelled head. This pelt was known as flea fur since it might distract fleas from the wearer's pristine skin. However, its inclusion importantly represents the possibility and the hope that the bride will be fertile. Brides touching their wombs in paintings hope that God will bless them with a child. The idea connects with Christ's miraculous conception which happened when God's angel whispered into the ear of the Virgin. In the two partnered portraits of Pier Maria Rossi di San Secundo and that of his wife, Camilla Conzago, who is with their three sons, Camilla strokes a weasel. Pier has a codpiece that is prominent, just like Henry VIII in Holbein's portraits.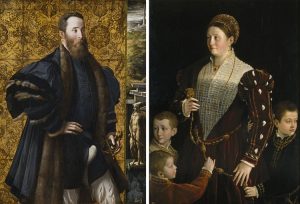 Marriage Portrait with a very prominent cod piece and wife with a band of children
In the painting of Camilla's husband, Camilla is gazing at her husband with extreme pride. She is surrounded by their sons and one son is staring at his father's codpiece. The symbolism only really works if the portraits are hung side by side. The father's large codpiece attests to the ideals of masculinity which the child aspires towards in adulthood.13 A white ermine also appears in a portrait of Elizabeth I who was often referred to as the Virgin Queen. In this later painting a white weasel attests to the Queen's purity and unmarried status. It becomes a political statement suggesting Elizabeth is married only to her kingdom.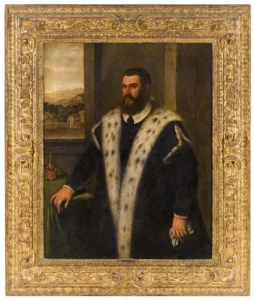 Daniele Barboro with a sexy dark ermine trimmed coat
One folk belief was for a woman to wear a weasel's testicles around her neck or tie them to her thigh. In this way, a weasel as a symbol of sexual rampancy having been emasculated, might provide a potent counterspell. The weasel represented purity in people's minds. Readers, choose your weasel. Will it be a fertility weasel, phallic weasel, a purity weasel or a success weasel? Whichever, they all made an appearance on wedding gifts and in paintings during the Tudor period. Including a weasel in a painting on tapestry or on an object would also be a way to indicate your high social status, and as a dual purpose the furry creature might just draw fleas away from your skin as well.
There is much more in Sex and Sexuality in Tudor England. Find on Amazon or in your local bookshops.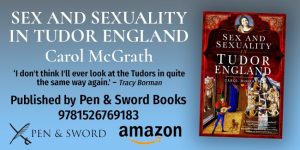 Amazon Link:
Tudor Sex & Sexuality tinyurl.com/y6n9rxb4
Biography
Carol McGrath
Following a first degree in English and History, Carol McGrath completed an MA in Creative Writing from The Seamus Heaney Centre, Queens University Belfast, followed by an MPhil in English from University of London. The Handfasted Wife, first in a trilogy about the royal women of 1066 was shortlisted for the RoNAS in 2014. The Swan-Daughter and The Betrothed Sister complete this highly acclaimed trilogy. Mistress Cromwell, a best-selling historical novel about Elizabeth Cromwell, wife of Henry VIII's statesman, Thomas Cromwell, was republished by Headline in 2020. The Silken Rose, first in a Medieval She-Wolf Queens Trilogy, featuring Ailenor of Provence, saw publication in April 2020. This was followed by The Damask Rose. The Stone Rose was published April 2022. Carol is writing Historical non-fiction as well as fiction. Sex and Sexuality in Tudor England was published in February 2022. The Stolen Crown about Empress Maud and the Anarchy is available for Amazon pre order now.
Carol McGrath lives in Oxfordshire with her husband. Find Carol on her website:
Follow her on amazon @CarolMcGrath
Subscribe to her newsletter via her website (drop down on the Home Page).