In early May, I visited Grey's Court near Maidenhead in Berkshire, which like Wolf Hall, is a Tudor house with many additions from later centuries. It possesses a series of courtyards, outbuildings, medieval towers, magnificent gardens and a bluebell wood.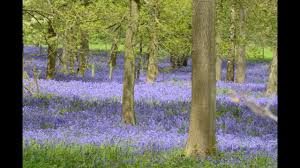 As I walked around Grey's Court I thought of how Wolf Hall could have appeared to the eye during the late medieval and Tudor periods. Wolf Hall grew palatial during the fifteen thirties. Later, the Tudor palace at Wolf Hall disappeared just like Henry VIII's palace at Nonsuch in Surrey has vanished leaving a variation of styles including Tudor brickwork at the back and Tudor tunnels beneath the building.
Like Wolf Hall, Grey's Court is a mixture of later styles. Unlike Wolf Hall, it retains Tudor chimneys and there is more Tudor brickwork still apparent. Like Wolf Hall (Ulf's Hall) Grey's Court Manor is recorded in the Domesday Book of 1086.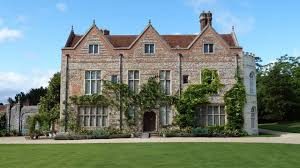 During the Middle Ages, at its height as a medieval manor, Greys Court was a complex of buildings and walled courtyards. The walls of the original manor complex still exist along with medieval towers marking out its boundaries. A seventeenth-century dower house incorporates the impressive medieval south-west tower.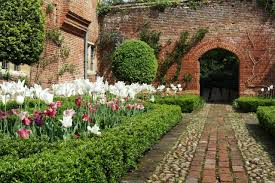 The Well House is also Tudor; it is built over a two hundred feet deep medieval well. A donkey would turn a tread-wheel which raised buckets of water. This was state of the art technology at the time since the Well House was constructed only thirty years after an illustration was published in Agricola's De Re Metallica.
The Green Court in front of the manor house was divided into a lower and upper court during the Tudor Era. It is still possible too to see the markings of medieval buildings in the grass on a sunny day. The current house was originally built in 1575/76. There are gables over three stories. It was built using thick dressed stone and materials salvaged from the medieval manor house. Now the ground floor has a fascade resembling the house's original Elizabethan appearance.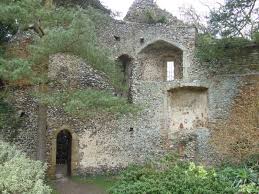 Lady Brunner and Sir Felix bought Grey's Court in 1937. She laid out the Tower Garden in the shadow of two of Grey's Court's historic towers. This garden is often compared to the White Garden at Sissinghurst. White became a favoured colour scheme for gardens during this decade. Before the Bonners came to Grey's Court there was little evidence of any gardens though there would have been at least a herb garden. The gardens embrace the historical romance of the manor and, indeed, much garden reconstruction at Grey's Court embraces features and design elements associated with the Victorian Arts and Crafts Movement.
This manor house is full of furniture and objects reflecting the eighteenth century though there are a few earlier gems. Of particular note is the sixteenth- century Swiss glass in the window gracing the landing. It contains an unusual image of a sixteenth-century bakery and scenes of jousting, fountains, and ponds. The kitchen is my second area of note. The jousts here survive from the 1450s! An arched fireplace, discovered during renovations has been opened up and repaired.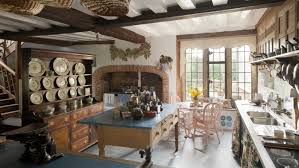 Grey's Court is a treasure for the historical novelist. It is a fabulous day out for anyone who enjoys old buildings, ancient towers, a lovely house which actually feels like a home and exquisite gardens. It is National Trust and it has a very good cafe and a seductive N.T. shop.