When I was writing The Stolen Crown, a novel about the twelfth century civil war between Stephen and Matilda known as 'The Anarchy', the most exciting episodes to write were those of pursuit and escape. Maud had three exceptionally hairy escapes during the novel. But first a little about Empress Maud's background and how her crown came to be stolen.
The novel opens when Matilda, Maud in the novel, following the death of her husband, The Holy Roman Emperor, was recalled from Germany by her father, Henry I. Henry demanded the nobles and prelates of England swear an oath in Westminster Hall to accept Matilda as his heir and their queen after his death. Maud was furious because shortly after this he married her to fifteen year old, arrogant, red-headed Geoffrey of Anjou. Initially, their marriage only lasted a year and she angrily returned to England. The King and his council persuaded them to try again. They did and, this time, Geoffrey and Matilda had three sons in quick succession. The eldest eventually would become Henry II.
On Maud's father's death in 1135, Stephen of Blois seized the throne. He was supported by nobles and prelates who did not want a female ruler; nor did they want Geoffrey of Anjou as her consort and potential king. Stephen of Blois was Henry's nephew, her cousin, the son of King Henry's sister Adela. William the Conqueror was their mutual grandfather. Maud was unable to challenge Stephen's kingship until 1139 when her loyal illegitimate brother, one of Henry's nineteen illegitimate offspring, Robert of Gloucester, helped her to slip into Arundel on the south coast with only a few knights. Amazingly, Stephen did not capture her at Arundel nor did he send her away. Instead, she was escorted by his brother, Bishop Henry of Winchester, to Bristol where she and her half-brother began to recruit their army.
Her story becomes thrilling. It involves three perilous escapes. The first of these occurs as she is about to be crowned queen in Westminster, Robert of Gloucester having defeated and captured Stephen at the Battle of Lincoln. She now was in a position to claim her throne. Stephen was her prisoner. It was Midsummer's Eve. Maud would be crowned Queen Matilda on Midsummer Day. However, London merchants did not support her because she had immediately increased their taxes. They claimed she was arrogant, acting like a man, deepening her voice as well as upsetting advisors close to her, including her half-brother, Robert and the Bishop of Winchester who had temporarily switched sides to support her. She simply would not take advice. Henry of Winchester changed sides back to Stephen again. Her enemies including the Bishop were supported by Stephen's queen, Matilda of Boulogne who raised an army in her stronghold, Kent. That eve, an army of Londoners came storming out of the City gates to the Palace of Westminster. Maud narrowly escaped to Oxford.
The second escape occurs when Maud becomes involved in a double siege at Winchester only a few months later. Her supporters led by Robert of Gloucester, Miles of Hereford and Brien Fitz Count attacked the Bishop of Winchester's new castle from Maud's castle by Winchester's west gate. The Bishop escaped but Maud was threatened by the approaching army led by Stephen's queen. It was a double siege. This time, she escaped by the skin of her teeth protected by Brien Fitz Count. Earl Robert was captured. He was exchanged for Stephen who once released sat upon the throne once again.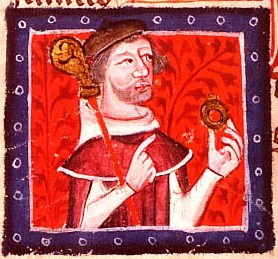 Bishop Henry
Maud held the south west as far east as Oxford and Wallingford. She even had her own coin minted. She was in great danger again as she took up residence in Oxford Castle. Her last escape was from Oxford Castle where she was besieged by Stephen during mid-winter 1142. After three months, it was a desperate situation. The castle was surrounded by Stephen's troops and they were running out of food. To save her people and, indeed, herself, Maud escaped by darkness during a heavy December snow storm. Read the novel to find out more because it's an extraordinary escape. Maud climbed out of the postern gateway on a rope ladder. She was in disguise wearing a cloak of white sheets, a camouflage, as she crossed a frozen millstream and passed close to Stephen's camp. She walked with two companions along the frozen River Thames to Abingdon and from Abingdon Abbey by horse to Wallingford. Maud was extraordinary, determined and resolute. Safe for now, she would win her crown… or would she?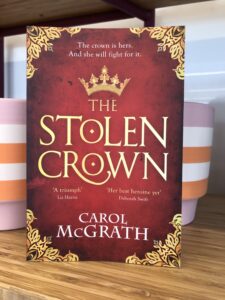 There is more, much more in The Stolen Crown released on May 18th. It is available now for all e readers and from bookshops US and UK. Amazon Link  https://tinyurl.com/3etw76ar