Courtly love was a game much played out at the Tudor Court of Henry VIII. However during the mid-1530s, this game of courtly love became real, touching some with consequences that belong to the world of chivalric legends. Certain events associated with the Duke of Norfolk's family led to scarily tangible consequences associated with forbidden love. This particular story of romantic love is worth recounting here. Henry Surrey, Norfolk's son, a Renaissance poet and really very vain, wrote verses connected to a family scandal. These were later inserted into a manuscript passed amongst a clique of courtiers who dabbled in poetry.  The manuscript is known as the Devonshire Manuscript, held in The British Library.
The Devonshire Manuscript was a volume of poems associated with Surrey's sister, Mary Howard, whose initials appear on the original binding. Queen Anne's waiting woman, Madge Shelton, was involved, as was the King's twenty-year-old niece, Margaret Douglas. There is a joint inscription to Margaret Douglas and Mary Shelton within the book. Poems in this work were scribed by at least twenty different hands. It was passed around Anne Boleyn's close group, not dissimilar to the way in which we use social media today. They would have been very interesting tweeters. Their verses invited dialogue through which a group of courtly persons wrote to, for and about each in stylised terms.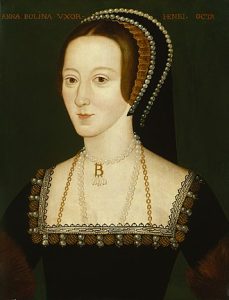 These courtiers had access to love poetry by Thomas Wyatt who used sonnet form in his verse and it was Wyatt's sonnets rather than the popular courtly verse of Geoffrey Chaucer that influenced the manuscript's verses. Since the book was circulated with blank leaves, recipients conversed with each other using responses, by adding lines and by changing lines. A sentiment expressed in one lyric was answered in another. It returned at intervals to Mary Shelton herself, who would alter any misogynistic lines to pro-feminist ones. Metaphors of courtly love poetry included imprisonment, dying, suffering, accusation, betrayal, concealment, and the notion that one could really die for love.
Henry Surrey is thought to have written the lines, 'In playful fable each beste can chose his feare.' His own name even appears in the manuscript. The lines refer to a romance and its unfortunate consequences for a younger step-brother of the Duke of Norfolk, Thomas Howard, who made a private contract of marriage with Margaret Douglas, daughter of King Henry's sister, Margaret of Scotland. She was a young lady close to the succession. Their situation, a forbidden romance, became one of the Devonshire Manuscript's focal points. Their love story is a literal illustration of how the tropes of courtly love were evolving and merging with the new sonnet form.
Queen Anne Boleyn disapproved of the clandestine relationship between Howard and Douglas, and, since they were part of Queen Anne's circle, the couple met secretly. An early poem in the manuscript charting the romance says:
Take heed betime lest ye be spied
Your loving eyes ye cannot hide
At last the truth will sure be tried
Therefore take heed.
For some there be of crafty kind,
Though you show no part of your mind,
Surely their eyes cannot be blind.
Therefore take heed.
Some is thought to refer to Anne Boleyn, a warning to be careful to avoid the Queen's sharp eyes. The likelihood is that the couple would keep a look out until Queen Anne was not in her chambers and they could meet clandestinely. When their secret marriage per verba de presenti occurred, only two persons were party to the secret wedding, Lady Williams and Hastings, a servant to young Thomas's mother.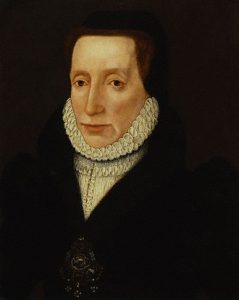 A much later portrait of Margaret Douglas
The situation imploded two months after the execution of Anne Boleyn. The pair were arrested. Margaret's place in the succession had catapulted her into enormous political importance. That July, two months after Anne's execution, Eustace Chapuys, the Spanish ambassador, wrote in dispatches, following the arrest of Margaret Douglas that a person of Blood Royal was also to die, but added that for the present this person was pardoned her life considering that sexual intercourse had not taken place. Had it done so she 'deserved pardon seeing the number of domestic examples she has see.' Perhaps this comment was Chapuys's personal dig at the perceived raciness of Anne Boleyn's court. After all, the Spanish ambassador had no liking for Queen Anne.
Margaret's relationship with Thomas Howard had unfortunately brought him into the realm of dynastic politics. Their relationship and secret marriage was one that Henry VIII was not prepared to tolerate. England's revised Treason Act during the 1530s meant that such dalliance was not at all sanctioned, and worse it was regarded as treason. An Act of Attainder on 18 July 1536 affected both Margaret Douglas and Thomas Howard, causing them to be placed in the Tower (the Act forbade the marriage of any member of the king's family without the king's permission). Whilst imprisoned in the Tower, the romantic couple continued to write courtly poems which were later slipped into the manuscript. It is impossible to prove conclusively that Thomas wrote the prison poems later placed in the collection because there is a lack of attested example of his handwriting. His authorship cannot be disproved either. Margaret, lucky for her, was treated leniently. She fell ill and was moved to Syon Abbey under the supervision of Syon's abbess. She was released on 27th October 1537.  Thomas, under sentence of death, was spared execution. He remained in the Tower, where he died on 31 October 1537.
Many poems contained within this manuscript refer to the plight of imprisoned lovers who are unjustly torn apart. These are poignant love poems such as:
For term of life thy gift you have
Thus now adieu my own sweet wife
From TH which no light doth crave
But you the stay of all my life.
Was TH young Thomas Howard? Did he write these lines?  Paranoia and surveillance were a primary component of King Henry's court. Yet, courtiers involved in the writings in the Devonshire Manuscript were just as blindly self-involved as the youth of any generation since can be. Their poems were a vehicle for the most interesting of youthful preoccupations – their own personal social dramas and their own coded and secret messages scribed in lyrics. This manuscript is a captivating glimpse into the youthful aspect of Henrician courtly society.
Discover more in my recent book Sex and Sexuality in Tudor England: http://tinyurl.com/y6n9rxb4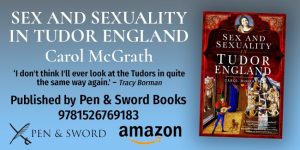 Biography
Carol McGrath
Following a first degree in English and History, Carol McGrath completed an MA in Creative Writing from The Seamus Heaney Centre, Queens University Belfast, followed by an MPhil in English from University of London. The Handfasted Wife, first in a trilogy about the royal women of 1066 was shortlisted for the RoNAS in 2014. The Swan-Daughter and The Betrothed Sister complete this highly acclaimed trilogy. Mistress Cromwell, a best-selling historical novel about Elizabeth Cromwell, wife of Henry VIII's statesman, Thomas Cromwell, was republished by Headline in 2020. The Silken Rose, first in a Medieval She-Wolf Queens Trilogy, featuring Ailenor of Provence, saw publication in April 2020. This was followed by The Damask Rose. The Stone Rose, published April 2022. Carol is writing Historical non-fiction as well as fiction. Sex and Sexuality in Tudor England was published in February 2022. Carol speaks at events and conferences and was the co-ordinator of the Historical Novels' Society Conference, Oxford in September 2016. She is an avid reader and reviews for the Historical Novel Society and is a member of both the Romantic Novelists' Association and Historical Writers Association. Carol lives in Oxfordshire with her husband. Find Carol on her website:
Follow her on amazon @CarolMcGrath
Subscribe to her newsletter via her website (drop down on the Home Page).